One to one coaching designed to improve your game and give you added enjoyment.
Whether you need longer and straighter drives, more consistency, a quality short game or improved course management, we can provide the services for you to get the results you want.

Why Coaching?
One-off lessons are available as an assessment of your game or for experienced players just looking to get back on track. We are able to build a package of lessons to ?t your needs.
We are able to do this for beginner players to include etiquette, swing and short game basics and an on-course session. Or for more experienced players we can offer a custom designed package to improve your driving, consistency, short game or course management.

Available as 30 or 60* minute sessions.

Lessons on the range are £30 including golf balls up to £70 for 1 hour in the studio with HD cameras and launch monitors.
Once you have your first lesson with one of our coaches, they will advise the best package tailored for your needs and budget.
*Recommended for ?rst session.

Studio Lessons
Our studio lessons utilise GC2 launch monitor technology as well as high-speed cameras to ensure that you can make fast and sustained changes to your game.
With heaters and the option of being indoors hitting into a simulator, it is ideal for cold and wet days. With this equipment, we can gap you clubs allowing you to focus on your distance knowing exactly how far each club carries.

Lessons will cover:
Golf Fundamentals
Swing Basics
Short Game
Long Game
Course Management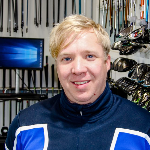 Adam Winwood - PGA Professional
Adam turned Professional in 2014 after a very successful amateur career. He has been with UK Golf Academy for two years and specialises in custom fit and coaching. Adam is a trained fitter with all major brands and even spent time with Bob Vokey. Adam took up golf at the age of 12, playing most of his golf at Theydon Bois Golf Club. He played for Essex at junior, colts and men's team levels. Adam's biggest amateur title was in 2008 when he became the Essex Amateur Champion. To further his career and knowledge of the game Adam went to study in America. During this time he was able to graduate with a degree in Psychology. Adam is able to use his knowledge of the mind and the way it works to help his clients through some of the mental barriers they will come across on the golf course. He has a great knowledge of custom fitting, having used both Flightscope and GC2. His advice has helped many golfers to become better players. Adam is able to use his knowledge of custom fitting and incorporate this into his teaching, in order to make sure his clients aren't held back by incorrect equipment. Through the use of correct equipment and a solid technique his clients are able to become the best they can be.
---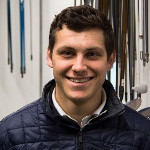 Scott Fletcher - PGA Professional
Scott Fletcher is a PGA Professional based at UK Golf Academy since 2012. During this time, Scott has received recognition from the PGA for his coaching skills. Scott's knowledge and experience mean that he has been able to guide students towards achieving the results they are capable of. Scott's philosophy is centred around using proven techniques that deliver results and being as effective as possible during precious practice time. Private lessons will include use of video technology, Flightscope/Trackman launch monitor and video notes with a voiceover from the lesson. The video notes are always popular because you can't forget what you should practise! A lesson with Scott will provide you with direction towards your goals and technique for better results, faster. For any enquiries, you could contact Scott direct on scott@ukgolfacademy.com or call UK Golf Academy on 01277 205809.
---
The proof is in the pudding – I was a 26 handicap when I started and now I'm 17! Thanks Scott.
Nik - Club Member
I shot a PB 42 points. You have really turned my game around, just wish I came to you earlier!
Paul - Club Member